Garage Door Springs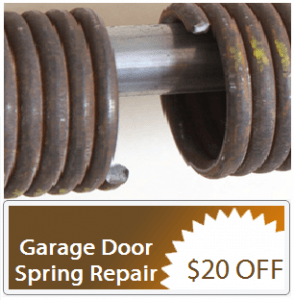 Garage Door Springs – The garage door springs should never be replaced by people who are not trained to do it and don't have the proper tools to preform the job safely. It's a very dangerous task that already result injuries for un-professional individuals that tried to do it by their own. In Garage Door Repair Durham NC we can send you a garage door repair expert that will replace your broken garage door spring in your garage door, fast, professionally and more important than everything, will avoids the unnecessary risk of doing it yourself. Our Garage Door Repair Durham NC experts can preform all types of garage door springs replacements tasks, for residential and commercial customers and can take care of your garage door springs issues whether you have garage door system that working with extension springs or garage door system that working with torsion springs. It's important to approach your garage door springs issues without unnecessary delays cause when you are waiting, you are increasing the risk of harm for yourself, the residences of your house and the property.
There are few different reasons that made us one of the top picks of the people in Durham when it comes to replacing broken garage door springs: first, we carry and use to our garage door repair work only high grade and heavy duty garage door spring that last much longer that the regular garage door springs that being used by most of the garage door companies in the area, second, when you have broken garage door spring, your garage door is stuck and it can be very unpleasant, no matter when you finding out your garage door spring is broken, day or night, weekday or weekend, normal day or a holiday, we will be there for you with our fast respond same day broken garage door spring replacement service, third, at the moment we are offering $20 off for any of our garage door spring repair services (when you are replacing two springs) and we are offering 10 years warranty with no additional cost.
Call us today to Garage Door Repair Durham at (919) 373-2020 and enjoy our supreme broken garage door spring replacement same day service.